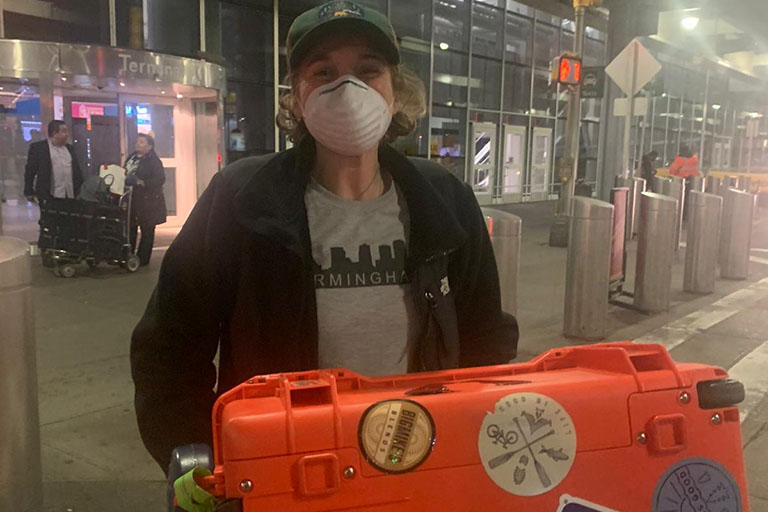 March 31, 2020
When IU postdoc Daniella Chusyd was preparing to spend a year conducting field research in forests throughout Africa, her thoughts were on operational aspects of the trip like what supplies she would need, how to get to her destination and how she would adapt to living in very remote areas.
But two months into her trip, Chusyd biggest concern ended up being a scramble to return back to the states in the midst of worst pandemic in a century.
"I never would have guessed this would be the situation," said Chusyd, a postdoc fellow in the Department of Epidemiology and Biostatistics at the School of Public Health-Bloomington. "When friends started talking about the coronavirus in the states, I wasn't worried about it. I was thinking it wouldn't touch me in Africa. This was before I realized how big it would get and the global and far reaching impact it would have."
Chusyd's trip abroad began in January 2020, with plans to work in the Congo, Uganda, Zambia, and South Africa through January 2021. Her work focuses on elephant health and reproduction, and she is working to demonstrate the value of using the elephant as a model for determinants of human aging, including how early life trauma associates with health.
The first part of her trip included the Congo, where Chusyd, along with 14 other people, was working and living in an isolated area with no electricity or running water, limited access to the internet, and accessible only by a 45-minute canoe ride and a two-day travel away from Brazzaville, the capitol of the Congo and nearest international airport.
When cases of COVID-19 began to spread, Chusyd received updates from her family and friends via text. Like many people throughout the world, at first Chusyd didn't understand the severity of the virus. Working in such a remote area also reinforced the idea the virus wouldn't reach her.